Over the course of only a few months, COVID-19 has swept through and changed the landscape of how we do everything. From grocery shopping to eating dinner out, there are new systems and protocols for every little thing. Between March and April 2020, millions of businesses closed their doors only to reopen them to an unfamiliar landscape. Local, state, and national governments are rife with recommendations on what the typical business office needs to look like in order to protect their employees and what needs to be in place for them to reopen.
In this article, you will learn how to social distance in a big office, how much space you need per employee, how office design comes into play in office distancing, and some tips on protecting your office space from viruses.
How to remain socially distant in an office setting?
Social distance is the practice of keeping a requisite amount of distance between yourself and others who do not live with you in your home. And since most office workers do not also live together, the landscape of a professional office will need to adapt to accommodate this new normal. But why is social distancing so important anyway?
According to the CDC, "COVID-19 spreads mainly among people who are in close contact (within about 6 feet) for a prolonged period. Spread happens when an infected person coughs, sneezes, or talks, and droplets from their mouth or nose are launched into the air and land in the mouths or noses of people nearby. The droplets can also be inhaled into the lungs. Since the virus is spread through close contact, moving out of close contact distance should slow the spread.
How offices are planning on rolling out social distancing will depend on many things such as the number of employees that are required to be in the office at any given time and how much space is available in the office building, just to name a few.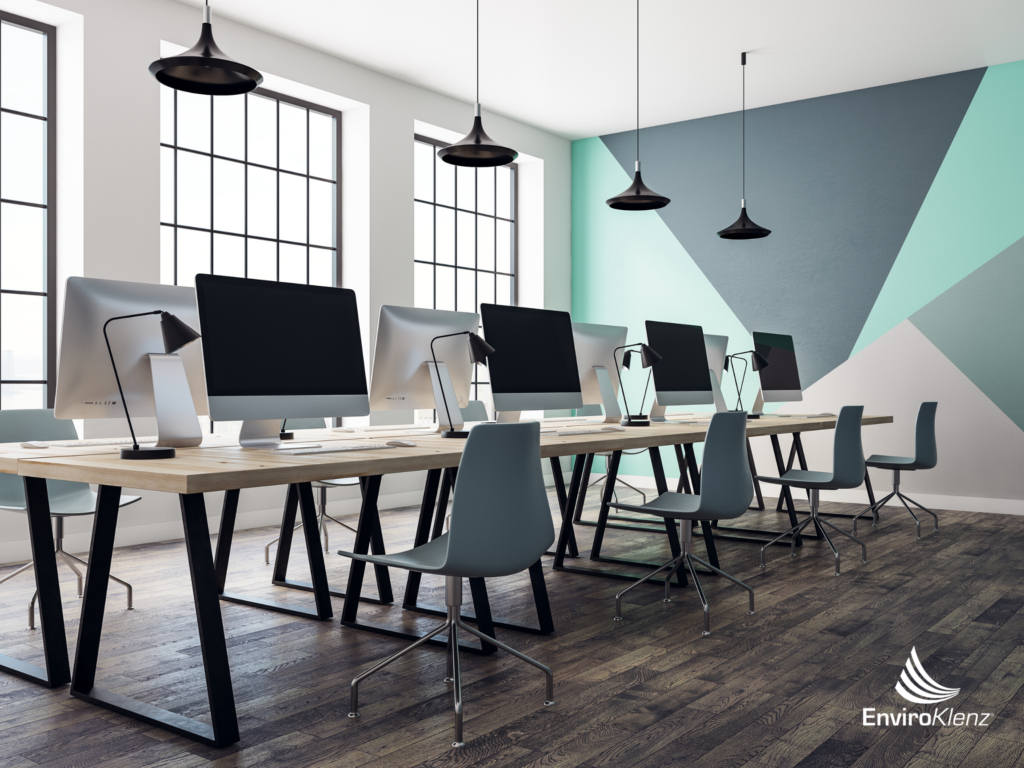 How much office space do I need per employee?
Back before COVID-19 struck, there was a downsizing trend in offices where the space per person and per desk was being severely decreased, but now the trend is being forced in the opposite direction. Workers are now required to be allowed six feet of space between desks at all times, which is a massive change.
In order to accommodate this, workplaces are planning several changes:
Staggering worker's schedules so that not all employees are at their desks at the same time.
Creating one-way corridors for filtering and controlling workplace traffic.
Keeping some positions as work from home indefinitely.
Adding shields and face guards to cubical walls.
Rework your floor plan
Place standalone air purifier systems in strategic places throughout the office
The EnviroKlenz UV Air purifier was tested by Intertek, a recognized total quality assurance provider to industries worldwide, against four different pathogens (including viruses). See the test results below: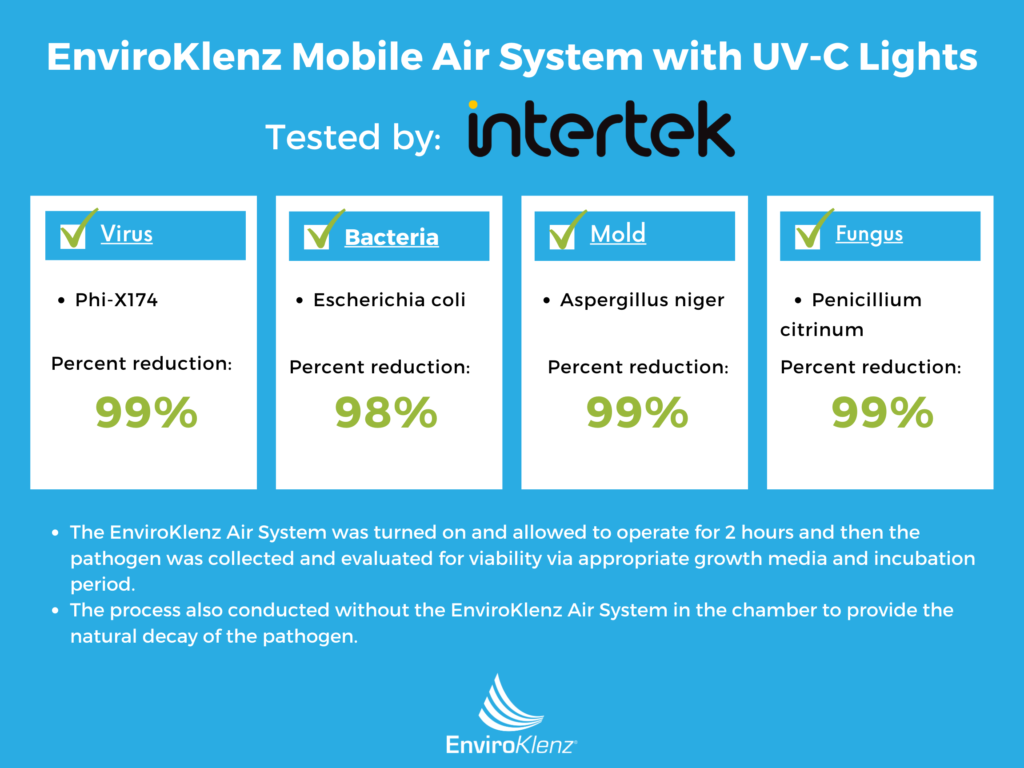 How can I protect my office space from viruses?
Here are four easy and effective ways you can keep your office safe from viruses and other potential pathogens:
1. Disinfection and cleaning
Develop a schedule for regularly disinfecting all heavy traffic areas. Regular sanitation is not just for bathrooms anymore, now all surfaces that could be considered communal from pens to credit card machines must be sanitized regularly.
2. Educate employees
Encourage employees to stay home when they are sick. No employee should feel compelled to come into the office when they are sick or contagious. Spread flyers and signs with instructions and rules.
3. Have smaller conference rooms
More meeting rooms with motion sense doors (or no doors at all) will ensure teams are still regularly connecting.
4. Purchase a HEPA air purifier
Respiratory diseases, such as COVID-19, rely on droplet transmission through the air, making the quality of the air inside your building something important to consider. Relying on HVAC systems is simply not enough.
The EnviroKlenz UV Air Purifier contains a 2-stage filtration system to give you the cleanest air possible. The first stage is an air cartridge that contains a patented earth mineral technology that captures and neutralizes odors and VOCs from the air without releasing any byproducts into your environment. The second stage is a medical-grade HEPA filter that captures 99.9% of particles from the air. The UV-C lights are outside of the ozone-producing range and shine directly onto the collection side of the HEPA filter.
EnviroKlenz® Medical Disclaimer:
"Any information that is provided on this website is not for the use by any commercial or personal entity without expressed written consent of the blog author. The material and statements illustrated within this blog are not intended to diagnose, treat, cure, or prevent any diseases or medical conditions. Nor does the author in any way guarantee or validate the validity, totality, or efficacy of any claims and will therefore not be held responsible for the content of any claims. Always consult your medical physician for any specific medical advice or recommendations."
Mobile UV Air System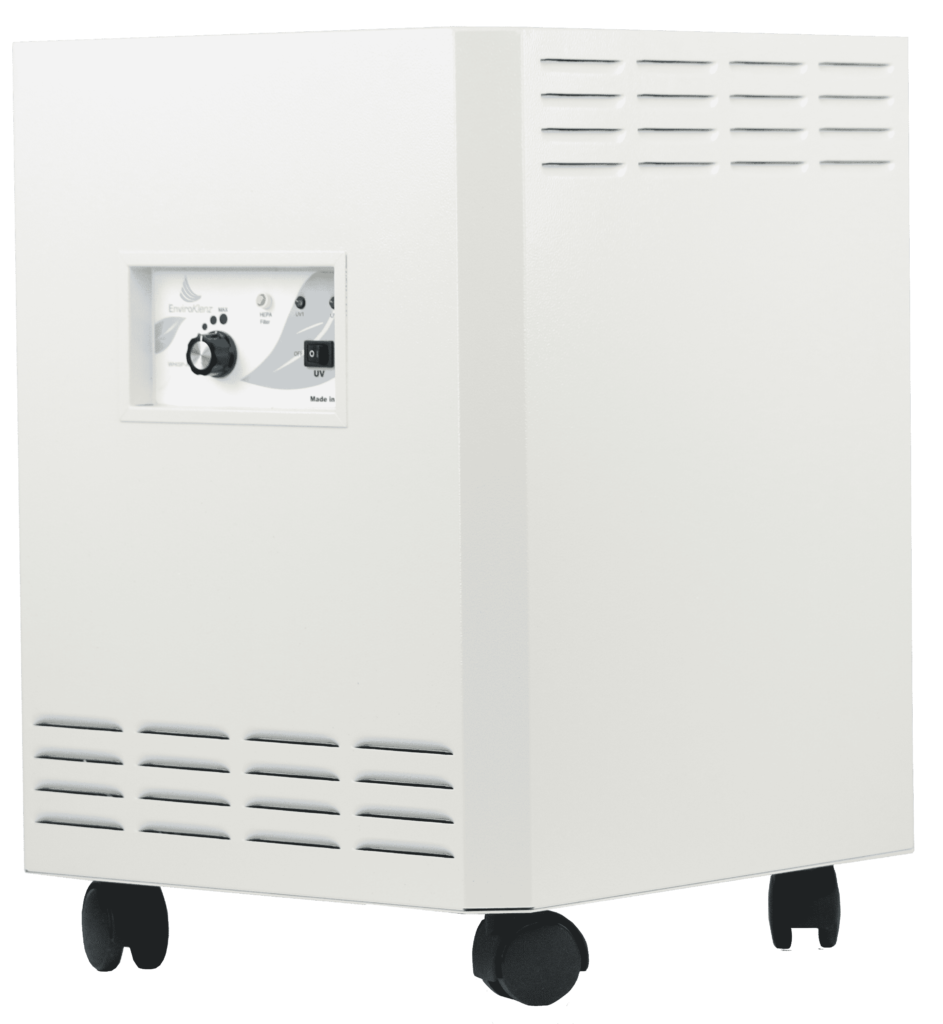 ✓ Patented earth mineral technology works to attack VOCs and break them down on a compound level
✓ No chemicals or masking agents
✓ Will not release any chemicals back into your environment
✓ UVC lamps are continuously shining on the collected organisms with high efficiency of kill and destruction