EnviroKlenz® for Dental Professionals
Improving Air Quality in Your Practice
Getting through the pandemic is a challenge for everybody, and everybody's part makes a difference. Your EnviroKlenz Air System has really helped us, and we appreciate it. 
EnviroKlenz® Patented Earth Mineral Technology
Developed over two decades by research scientists and originally designed and still used today by the US military to destroy chemical warfare and toxic industrial chemicals.
The EnviroKlenz® patented earth mineral technology is a safe and effective technology that utilizes safe earth minerals to capture and destroy airborne toxic and noxious gasses, particulates, allergens, bacteria, viruses, and other allergy triggers.
EnviroKlenz® Technology does not contain any abrasive chemicals, masking agents, or toxic fillers. Safe for the environment and to use around your family and pets.
EnviroKlenz® is a Registered Trademark of Timilon Corporation, Bonita Springs, Florida, USA. EnviroKlenz® is produced in the USA and is protected by multiple USA and International patents including: 6,887,302 ; RE 39098 ; 7,276,640 ; 8,038,935 ; 8,496,735
The EnviroKlenz® Air Cartridge alone has been tested and validated to remove:
99.9% of gram-positive bacteria
99.9% of gram-negative bacteria
99.9% of viruses
Third Party Tested By
The testing was conducted in a 1008 cubic foot biological environmental chamber.  The pathogen was disseminated via a collision nebulizer.  The EnviroKlenz Air System was turned on and allowed to operate for 2 hours and then the pathogen was collected and evaluated for viability via appropriate growth media and incubation period.  The process also conducted without the EnviroKlenz Air System in the chamber to provide the natural decay of the pathogen. The reduction rates reported can be found above
*Testing performed and validated by Intertek, a third party, Total Quality Assurance provider to industries worldwide.
Complementing Your Dental Office
*The colored squares represent the suggested placement of the EnviroKlenz Air System Plus (green) and EnviroKlenz Source Capture System (blue) inside a dental practice.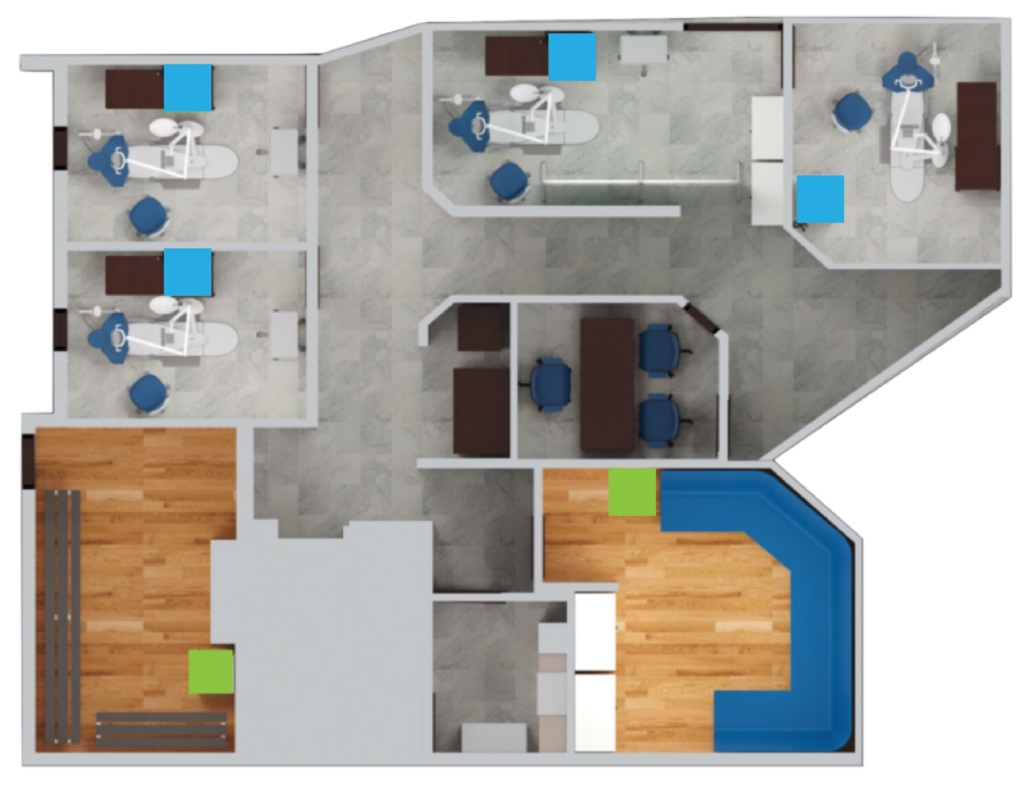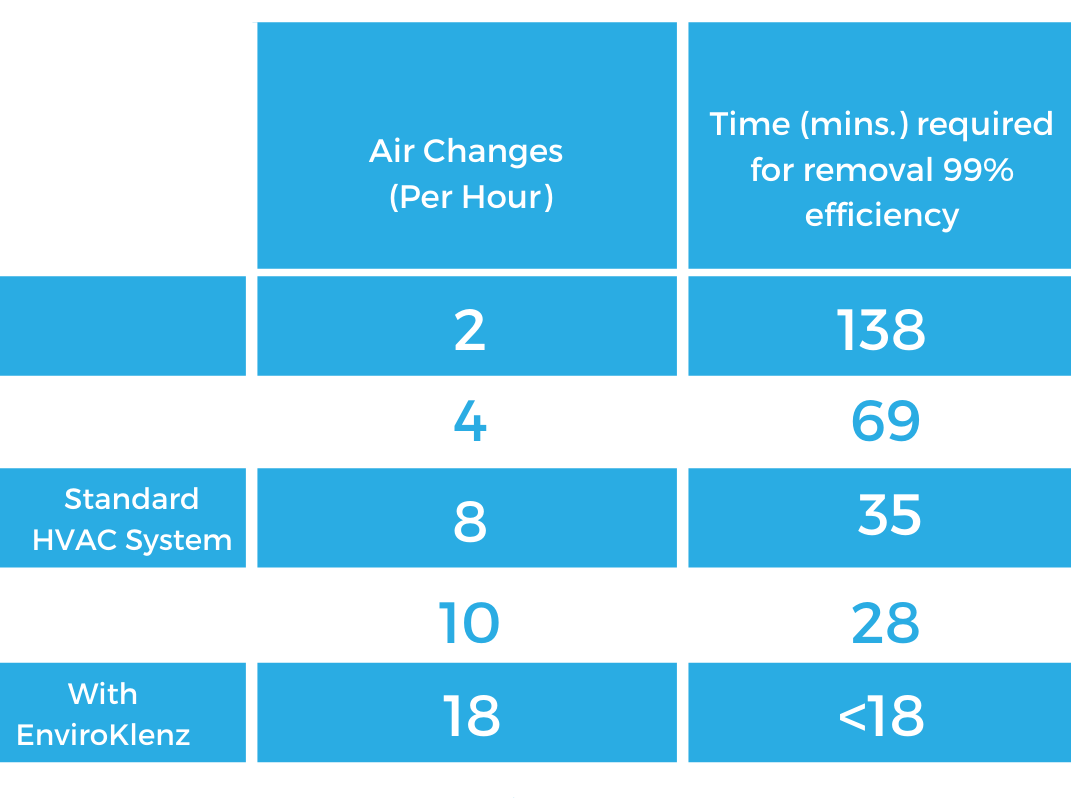 According to CDC Guidelines for Environmental Infection Control in Health-Care Facilities, the required turnover between patients in a 1,000 cubic foot area is around 35 minutes with just an HVAC system providing 8 air changes per hour.
The EnviroKlenz Air System Plus would add an additional 10 air changes per hour at a 99% efficiency removal in that 1,000 cubic foot area, decreasing the turnover time to under 18 minutes.
Need help deciding the best solution for your property's indoor air quality? Schedule a free 15-minute call with one of our Indoor Air Quality Experts! 
EnviroKlenz Air System Plus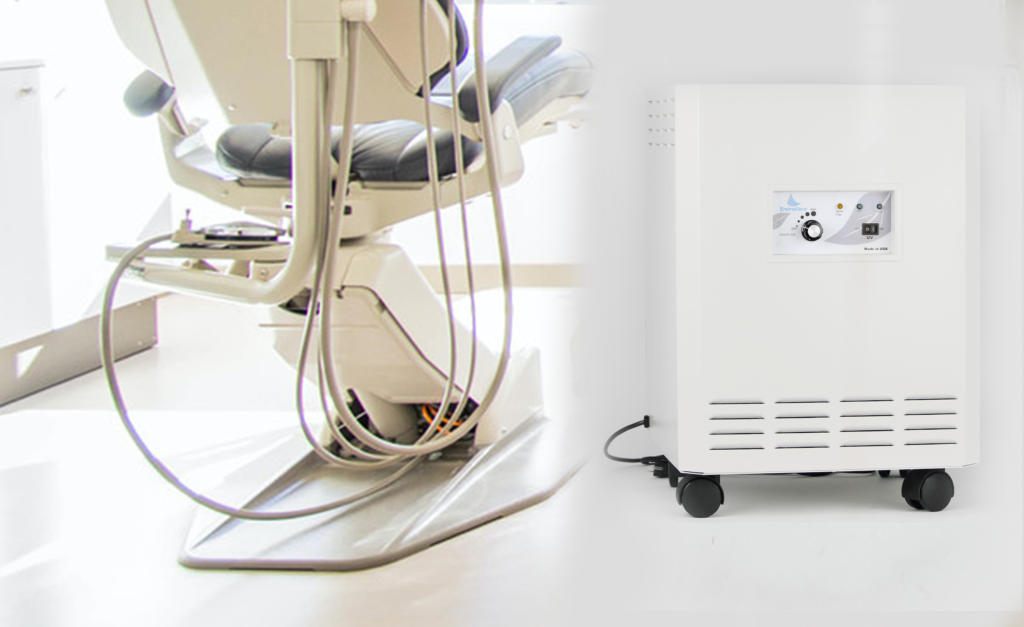 Utilizing EnviroKlenz's patented formulation of earth minerals to capture and destroy harmful airborne pollutants for good, the Air System Plus pairs its innovative Air Cartridge with industry-standard HEPA filtration and UV-C for premium purification of contaminants big and small.
This unique approach to air purification effectively eliminates everyday triggers from your indoor environments, leaving you with nothing but fresh, crisp air.
How we filter your air:
Stage 1 – Enviro

Klenz®

 Air Cartridge –

 Embedded with our innovative earth mineral technology to effectively capture and destroy a broad array of airborne contaminants and particulates, including VOCs, chemicals, and microscopic pathogens

Stage 2 – UV-C Bulbs: 

Work as an added layer of defense to deactivate microscopic biologicals like viruses, bacteria, and mold, as well as thoroughly sanitize the system's interior components

Stage 3 – H11 HEPA Filter:

 Effectively captures particulates including dust, dander, smoke, pollen, and other allergy triggers
*This product is Listed to applicable standards and requirements by UL.
EnviroKlenz Source Capture System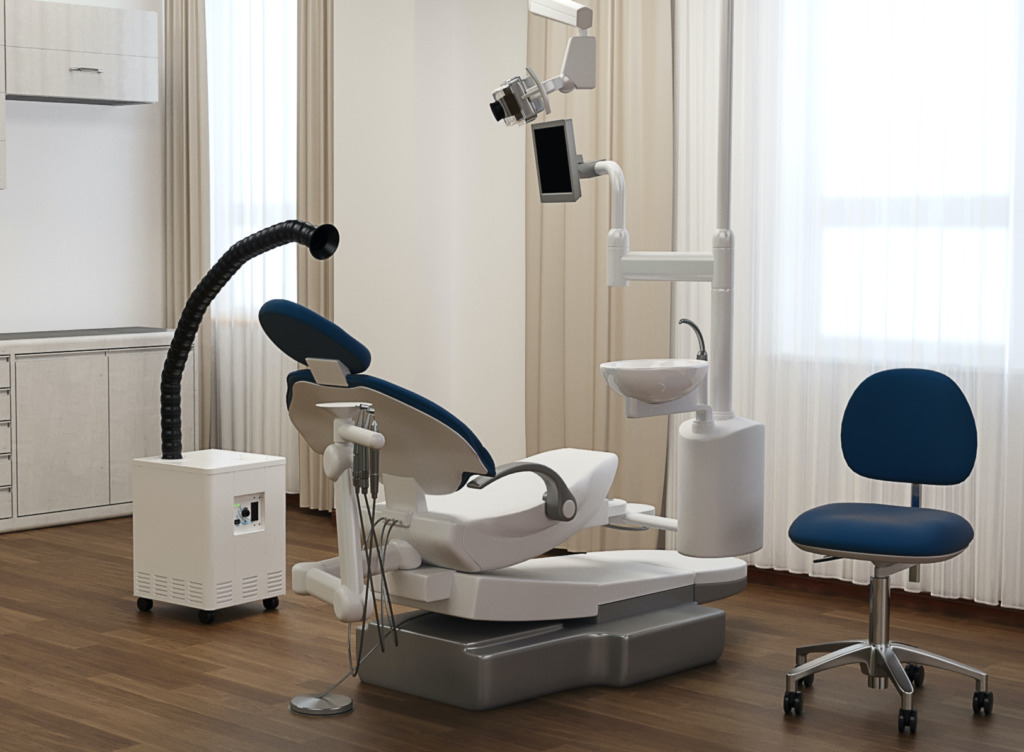 The EnviroKlenz® Source Capture System is a standalone device that takes advantage of EnviroKlenz Technology in a "directed point of source" system for critical applications. The adjustable arm allows the user to manipulate the device to draw air from the source point. When the device is not being used for critical source capture, it can additionally be converted and used as a total room air purifier.
EnviroKlenz® Air Cartridge- effective against toxic or noxious odors, chemicals, and pathogens through our proprietary "Adsorptive Neutralization" process.
The EnviroKlenz Air Cartridge has been independently tested and proven to remove 99.9% of viruses (tested virus was 0.025 microns) and bacteria (gram-positive and gram-negative)
HEPA filter- captures harmful dust, particulate, allergens, pet dander, microorganisms, and more.
UV-C lamps- located before (and radiating on) the collection side of the HEPA filter. Unlike systems that depend on killing/inactivating the organisms as they pass through the UVC light in a very short period of time, the UVC light is continuously shining on the collected organisms with high efficiency of kill.
Four-speed blower- offers the quietest and most efficient airflow on the market. The low Whisp-Air speed allows for near-silent operation. Medium to High speeds creates maximum air efficiency at noise levels suitable for residential and commercial use.
Air System Plus & Source Capture Bundle For Dentists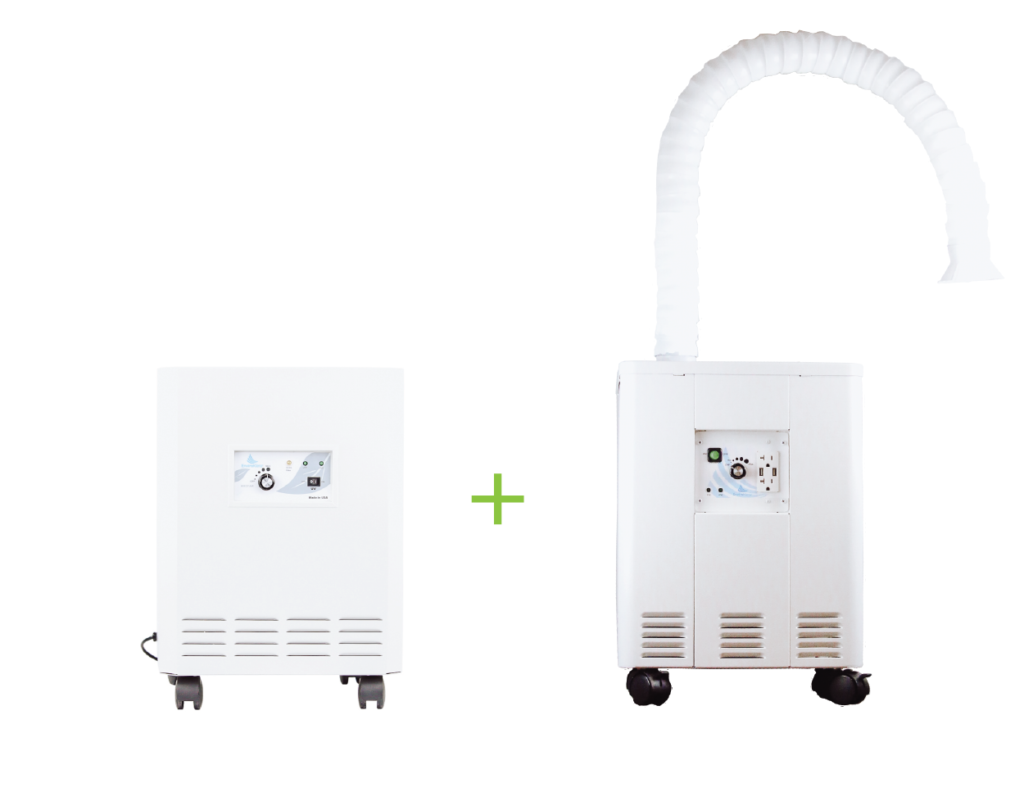 Includes:
1 x EnviroKlenz Air System Plus
+
1 x EnviroKlenz Source Capture System
"What got my attention about EnviroKlenz is that it incorporates Medical Grade HEPA Filtration with UVC lights to kill viruses, some get caught up on the particle rating for the HEPA, but UVC lights really make all the difference in the systems effectiveness" 
We are a dental office struggling to acquire the PPEs we have needed to reopen after the Covid-19 quarantine. Our Timilon rep, Levi, went above and beyond to help us get the machines in time for reopening and even coordinated with our dental supply rep to make it happen. We were pleased and so grateful for the fantastic response.
"This is the 3rd UV model I bought for our medical office. The staff loves it; our air has never seemed cleaner in the office. Also, we cut glasses, and we no longer have a bad odor in the air from plastic being cut. Thank you! I have recommended this product to everyone I know." 
"The people at EnviroKlenz made the difference for me. As a dentist navigating the COVID-19 pandemic, they came to my rescue and made the purchase and set up of recommended air purification simple and easy. I highly recommend EnviroKlenz."
Frequently Asked Questions
Do the systems come with everything I need to operate it?
Yes, the EnviroKlenz Air System Plus comes equipped with everything you need to run the system. (1) EnviroKlenz Air System Plus + (1) Set of UV Bulbs + (1) EnviroKlenz Cartridge + (1) Bonus Air things Air monitor which is included free of charge with your order
Where are the systems made?
The systems are made and assembled in the United States.
I have a 2400 square foot dental office with 3 operatories. How many systems will I need?
We recommend, according to the latest guidelines having an EnviroKlenz system in each operatory and the patient waiting areas. If the operatory is not always in full use, you can rotate a system in between two operatories, when not in use. Since our EnviroKlenz systems are on wheels, it makes it easy for moving around from location to location throughout your dental office.
Where can I purchase replacement parts? Are they always available?
Replacement filters and accessories may be purchase here on our website. We also offer a subscription program where filters are shipped to your office automatically when it is time for changeout. You can set your frequency and opt-out anytime. The programs offer a 20% savings on all replacement purchases.
Does your UV system produce ozone?
Since the EnviroKlenz Air System Plus is UVC, it has a wavelength of 254 nm, which is outside of the ozone producing range. UVC Lights or germicidal UV are at a much more specific wavelength than what is termed "UV" broadly, which encompasses the wavelengths of 100-380 nm. UVC are low-pressure lamps, more like a fluorescent lamp, with a specific wavelength of 253.7 nm (1182.5 THz). To create ozone from UV, the light wavelength would need to be in the range from 160-240 nm.
How fast can I get my order?
We are currently prioritizing all dental office orders. Most orders will ship with 48 hours from the order placed, and we will notify you with tracking once it has departed as well.
How can I educate my staff and patients on the benefits of our dental office using an EnviroKlenz air system?
We understand the importance of educating both your staff and patients on the proactive measure you are taking for your office. We can provide your office with educational and informational literature that illustrates the level of technology being used in your office, along with the safety and health benefits that it provides.