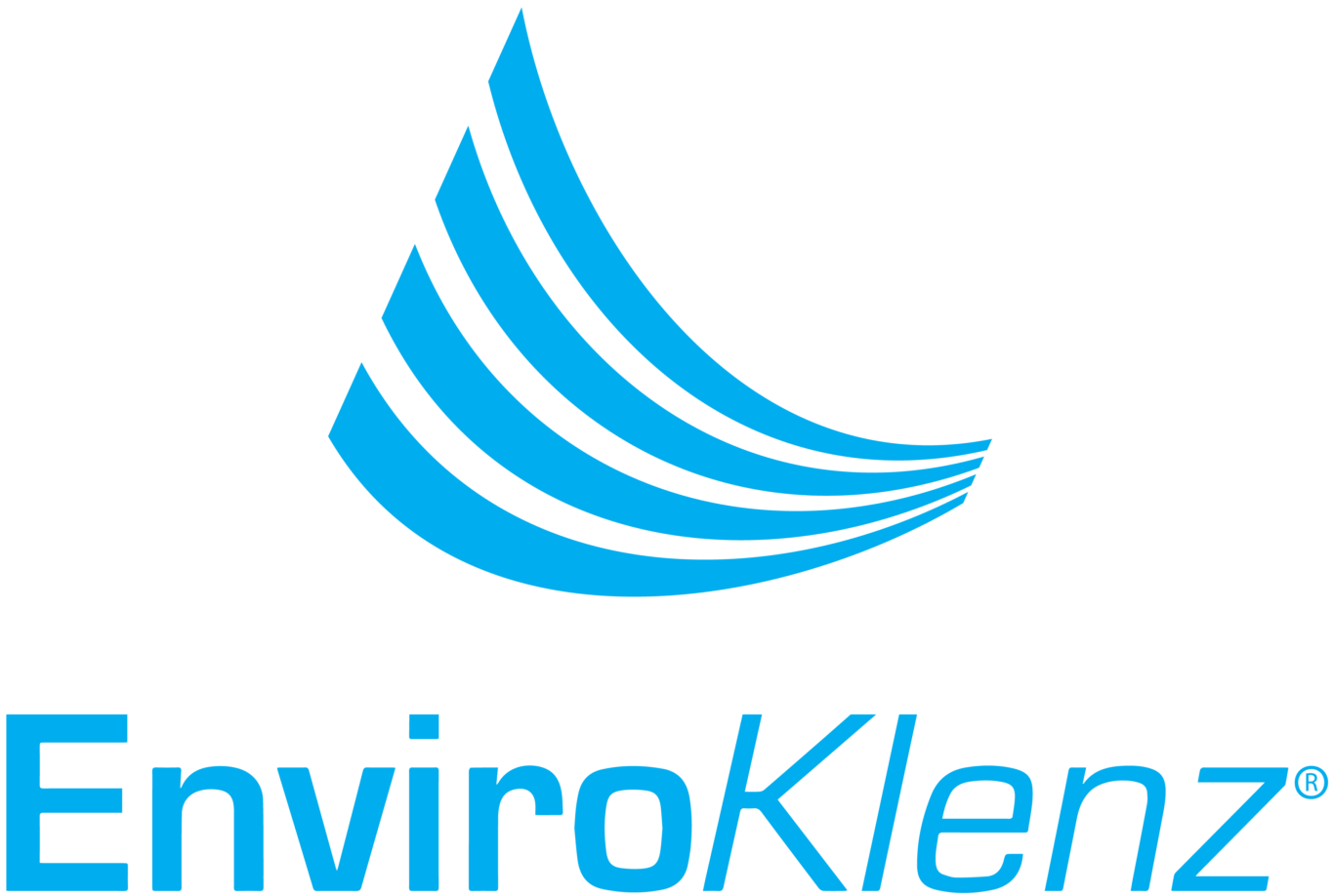 Resources New York dentists should consider when reopening their practices
The lack of PPE has led dental professionals to resort to new alternatives
BONITA SPRINGS, Fla. (June 10, 2020) – Quality Care Dental LLP, a dental office located in New York, was excited to hear that practices would be able to reopen on June 1st, and for the first time since the pandemic take regular appointments. However, the dental office is struggling to find the appropriate equipment and PPE to comply with state guidelines and finally operate. The New York State Department of Health released a dentistry interim guideline that must be followed in all dental settings in order to comply with state, CDC, and ADA regulations.
"Our dental office is struggling to acquire the PPEs we have needed to reopen after the Covid-19 quarantine," said a Doctor from Quality Care Dental LLP, and she is not alone. Dentists in many states like Illinois and Missouri have reported on the difficulty of finding PPE. Personal protective equipment has been hard to come by, and many dental offices are resorting to other options and technologies to keep the air free of possible contaminated droplets.
Dentists, dental staff and patients are particularly in danger of contracting diseases via aerosol droplets, which are usually produced in routine dental procedures. The lack of PPE and state guidelines has led dental professionals to search for new equipment to keep their visitors safe. The CDC recommends that all offices "should consider the use of a portable HEPA air filtration unit, to reduce particle count in the room and the amount of turnover time."
EnviroKlenz, an air purifier company headquartered in Bonita Springs, Fla., ordered third-party tests to report on the efficiency of their system against four different pathogens, and the results were astounding and in compliance with CDC guidelines. The EnviroKlenz Mobile Air System with UV lights was tested by Intertek, one of the most recognizable independent labs in the United States.
The virus tested (Phi-X174) is a quarter size of the Sars-CoV-2 virus, and the report revealed that after two hours, the percent reduction was 99.8%. Following the same line of testing, the reduction rate reported for bacteria (Escherichia coli) was 98.6%, for mold (Aspergillus niger) was 99.9% and for fungus (Penicillium citrinum) was 99.9%.
For comparison, the process was also conducted without the EnviroKlenz Air System in the chamber to provide the natural decay of the pathogens. This new testing confirms the efficacy of the EnviroKlenz UV Air Purifier in combating droplets in the air, fairly common in dental offices since daily procedures can easily transmit viruses from person to person through airborne particles.
"After conducting extensive research, we chose EnviroKlenz for our office and we could not be more impressed. We were able to get the machines in time for reopening and operate in a safer environment," completed Dr. X.
For more information, visit the EnviroKlenz Dental page, or read the full study here.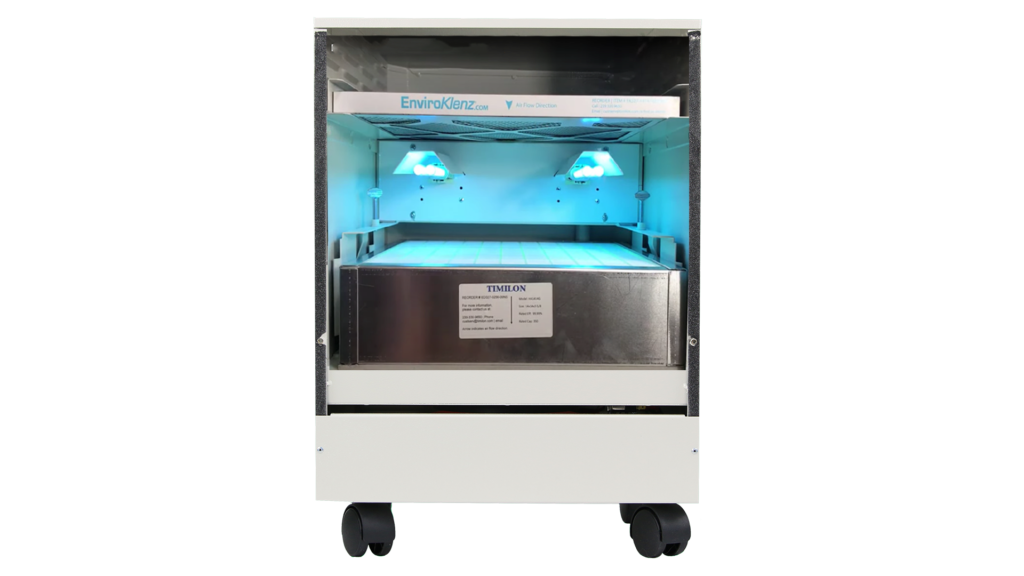 The EnviroKlenz UV Air Purifier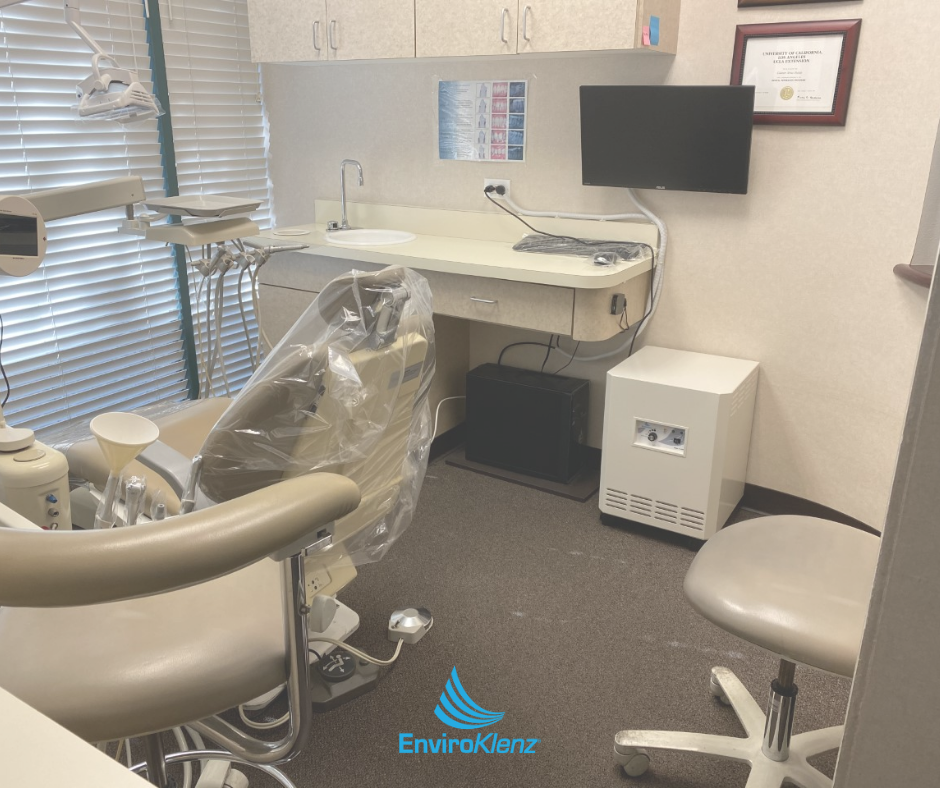 Dental office equipped with the EnviroKlenz UV Unit
###
MEDIA CONTACT:
Leticia Menzzano
Marketing & Brand Specialist, Timilon Corporation
hello@enviroklenzairpurifiers.com
239.294.1341
About Timilon Corporation
Timilon Corporation was founded in Fort Myers, Fla., and is the parent-company of EnviroKlenz®, OdorKlenz®, and FAST-ACT®. Timilon is an innovative and rapidly growing company focused on personal air quality, surface decontamination, and engineered solutions.  The company provides destructive adsorption technologies with the ability to destroy, neutralize, eliminate and/or protect against a wide variety of toxic chemicals, noxious odors, and biological hazards. For more information, visit timilon.com.
###