The Metronome in Union Square of Manhattan regularly holds a 62-foot wide clock. Usually, the clock shows the time to and from midnight. But, for one week in September 2020, the 'Climate Clock' counted down the time we have left to prevent the irreversible effects of global warming.
These effects include more frequent and larger wildfires, hurricanes, floods, and human displacement. The year 2020 has already brought record wildfires – 4 million-plus acres in California have burned just this year, and fire season hasn't yet ended.
In the time of airborne COVID-19, clean indoor air is more important than ever, and now, with the increase in wildfires, there's been an immense decrease in outdoor air quality as well. 
Learn more about the effects of poor air quality in businesses, the added costs that it can bring, and why businesses should make it a top priority.
The added cost of poor air quality on businesses
Businesses are nothing without their consumers and with indoor business greatly reduced because of the pandemic, that moves most things outside. Couple that with poor outside air quality, and consumers are not likely to venture out at all.
In 2018, A study by Data-Driven Yale showed that Spanish consumers spent nearly $50 million less per day when the air quality was 10% worse than usual. And, during wildfires, calculations based on model projections show a decrease in air quality by 30-40%. That has a monumental effect on the economy.
A big percentage of that daily spending happens at restaurants. If restaurants cannot serve food, they cannot bring in money. Indoor dining facilities have already had to adapt quickly due to the pandemic. Instead of seating customers at indoor tables, they have built outdoor dining areas, and found ways to deliver or do online ordering. However, even outdoor dining can be brought to a halt when extra pollutants fill the air.
Retailers are in much the same situation. During smokey days, outdoor shopping is not safe, and indoor shopping becomes quite limited to keep up with physical distancing guidelines.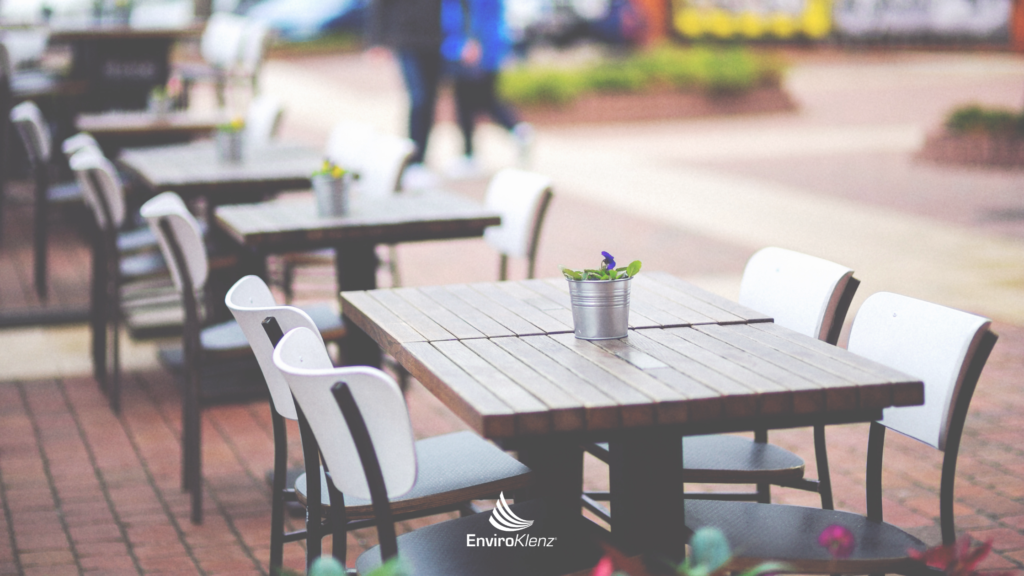 The importance of clean indoor air
COVID-19 has negatively affected the economy in the U.S. and worldwide. In a study by Texas A&M AgriLife in September 2020, they found the U.S. GDP is expected to decrease by $2.5 trillion due to the pandemic.
Now, we know that the virus can spread through surface contact but is mostly airborne. Clean, purified air with good ventilation is more needed now than ever, and due to state mandates, businesses are only allowed a limited number of customers inside at a time to avoid the spread.
There has never been a time when the public was more concerned about what they're breathing in. When you can assure your customers that your indoor air is safe to breathe, they will feel more at home with your company, especially now that wildfire smoke in some states is pushing everyone indoors again. Shoppers are afraid to leave their homes with the coupling of the pandemic and wildfires, and local economies are feeling the blow of less spending.
With air quality and safety standards constantly talked about in the news, you need to stay ahead of the game. The indoor air of your business needs to be top-notch, and properly maintained HVAC systems and indoor air purifiers are your keys to success.
Why indoor air should be a top priority for businesses
The top priority for any business is to ensure the safety of its employees and customers. Letting the public know that you are swiftly and safely taking control of every curveball thrown at you is the way to build trust, loyal customers, and employees.
Gaining the trust of your customers will bring in more money as they begin to venture out again. You want them to feel safe in your store or restaurant so they continue to come back, and you will gain a positive public perception of your business.
How to improve indoor air quality in your business
So, what is the best way to clean your indoor air and ensure your customers and employees can breathe easy? Keeping up with the maintenance on your HVAC system can mean better ventilation for everyone.  The addition of whole-room air purifiers in your business do not only help supporting your HVAC system, but also help generating a positive public perception.
There are many different air purifiers on the market., but you want to find one that will not release any chemicals back in the ai, and preferably, is made in the USA. The EnviroKlenz Air System Plus has all those features, and more!
The EnviroKlenz Air System Plus will give your company and customers peace of mind, knowing that the air is clean inside. It has an air cartridge that contains an earth mineral technology to capture and neutralizes odors and VOCs without releasing any byproducts; a medical-grade HEPA filter that filters particles up to 0.3 microns with 99.99% efficiency; and UV-C lights for germicidal destruction.
Now is the time to be educated on what you are breathing in, and make sure to protect your company and customers from invisible threats.
EnviroKlenz® Medical Disclaimer:
"Any information that is provided on this website is not for the use by any commercial or personal entity without expressed written consent of the blog author. The material and statements illustrated within this blog are not intended to diagnose, treat, cure, or prevent any diseases or medical conditions. Nor does the author in any way guarantee or validate the validity, totality, or efficacy of any claims and will therefore not be held responsible for the content of any claims. Always consult your medical physician for any specific medical advice or recommendations."