When you think of a gym or exercise facility, your first thought is likely "health." This is a place you can frequent to improve your overall health and chances of longevity.  However, in our new normal of living alongside COVID-19, the quality of our air and the cleanliness of our shared environments are more important than ever.
Most states and local governments are now permitting gyms and other recreational facilities to reopen, assuming those businesses adhere to CDC recommendations and guidelines for social distancing, capacity, cleanliness, and ventilation.
If you own a gym and are considering a reopening plan, or are a consumer looking to get back into your fitness routine, don't be afraid, but do be careful and thorough in your planning.  As a business owner, there are many steps that you can take to prepare your facility for a healthy return to operations.
Common sources of pollutants in the gym
Several studies have been published in recent years, detailing the most common forms of air pollution inside your favorite gym or workout facility. In the United States, there is no agency to specifically regulate indoor air quality of gyms – and luckily, any major concerns can be remedied through the use of high-quality HEPA filtration.
Depending on the time of day and the number of people using the facility, carbon dioxide is a common air pollutant at the gym. Heavy breathing during peak hours and crowded classes can fill the air with carbon dioxide and cause you to become light-headed or disoriented.  While social distancing helps prevent the spread of COVID-19 in the air, it does not reduce the amount of carbon dioxide you expel by simply breathing.
In addition to the carbon dioxide expelled by patrons of the gym, a gym can also be polluted by dust particles, other chemicals such as formaldehyde used in plastic equipment and cleaning supplies, and carbon monoxide. It is important to know how your workout facility is both ventilated and cleaned each day.
Common air pollutants at the gym include:
Carbon dioxide
Carbon monoxide
Dust and dander in the air
Industrial pollutants from nearby traffic, transportation, machinery, or factories
Chemicals including formaldehyde from plastics and cleaning supplies.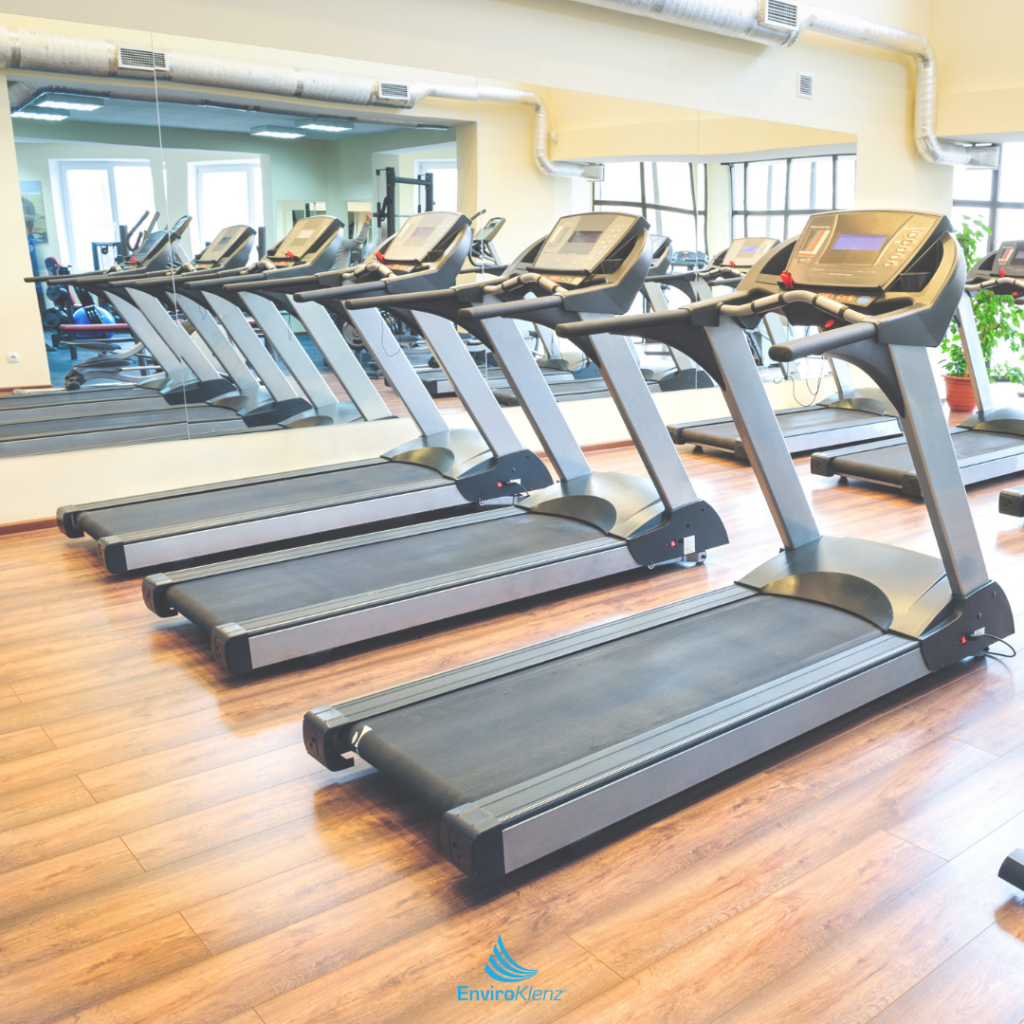 How to exercise in cleaner air
The number one way to create cleaner air in your gym is to improve your ventilation system so that the maximum amount of fresh air is delivered to occupants while maintaining your CDC recommended humidity levels (around 40-60%).
If you are a business owner, you should first examine your existing equipment and determine if you can adjust your filter efficiency on your HVAC units to reach the highest functioning levels.  From here, especially in times of COVID-19, the CDC recommends the use of high-efficiency particulate air (HEPA) filtration units in areas where ventilation may be lacking.  The use of portable air purifiers is preferred to using large fans, as air filtration systems do not blow the air from one patron onto another, it truly filters the air being shared.
When possible, you should also wear a mask when exercising, including one with an additional filtration system but not one with a built-in vent. Many may not be aware, but the built-in vent does more to protect you from air particles but does not protect others from the air you are expelling. These vents are essentially "one way." Masks should be worn whenever required by local ordinance but also any time that proper social distancing cannot be achieved while exercising and in common facility areas.
No, gyms and workout facilities are not toxic. However, science is showing us that they may not be the most inherently safe places during a pandemic transmitted through the air and via respiratory particles.  Even in 2020, you should exercise and not be afraid to do so in a gym. Maintaining a regular workout routine will help alleviate the stress and mental health concerns brought on by other challenges of the current public health crisis.  However, in or out of a global pandemic, you should always look for signs that your gym's management team is working to keep patrons safe through their cleaning and ventilation systems. If these new policies are not provided to you or clearly posted on a sign, never be afraid to ask questions.
Keep an eye out for portable HEPA filters, air meters, windows in use, etc. If you don't see these best practices in place, approach your gym's management team and suggest they make improvements. You can also inquire with your gym manager as to their methods of cleaning the facility. Mopping is always better than simply sweeping floors, and certain surface cleaning chemicals can actually cause a decrease in air quality for patrons.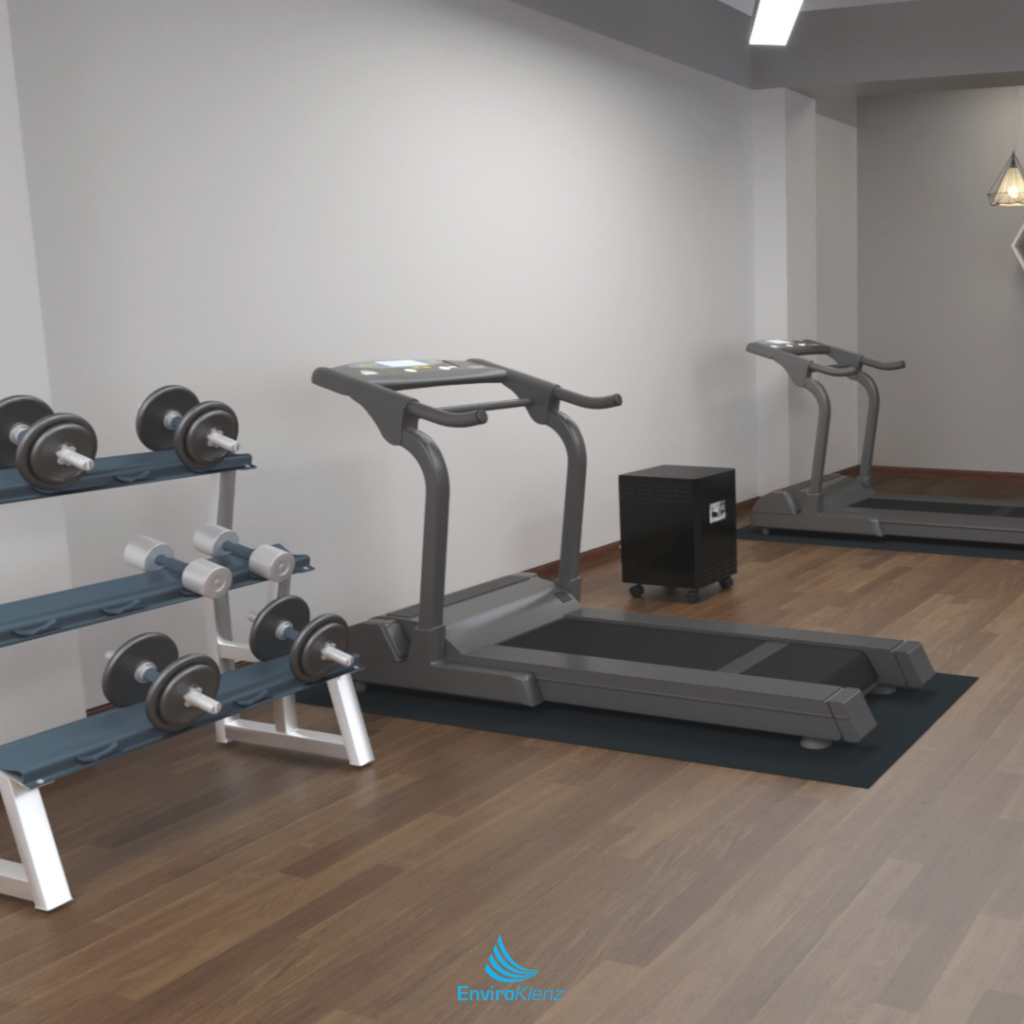 What's the best air purifier for the gym?
EnviroKlenz Air System Plus is one of the leading models of HEPA air purifiers, and perfect for use at a gym or other indoor recreation facility.  Our air purifier increases air exchange rates leading to fewer chemicals and dangerous particles in your air.  The EnviroKlenz Air System is also tough on odors, removing them from the air in your treated area – never a bad idea for a gym!
The EnviroKlenz Air System Plus uses hospital-grade technology to guarantee the air in your gym stays as clean as possible:
EnviroKlenz Air Cartridge
Proprietary earth mineral technology to remove and neutralize VOCs, pathogens, malodors, fragrances, and other toxic and noxious chemicals.
UV-C Lights
Outside the ozone-producing range, they shine directly onto the collection side of the HEPA filter for germicidal destruction.
HEPA filtration
Medical-grade HEPA filter that captures harmful dust, particulate, allergens, pet dander, microorganisms at a 99.99% efficiency and lasts up to 2 years! 
Four-speed blower
The low Whisp-Air speed allows for near-silent operation, and Medium to High speeds creates maximum air efficiency at noise levels suitable for residential and commercial use. The blower has a 250 CFM and covers up to 1,000 sq ft.
If you'd like to know more about ensuring your air safety at the gym or any other indoor environment consider visiting the Centers for Disease Control website for the latest in recommendations and updates: Additionally, never be afraid to discuss air quality with the manager or owner of the facility in which you'll be working out.  If air filtration systems are not in place, suggest that your manager looks into an EnvironKlenz Air System today to help keep you, their employees, and all other patrons safe despite COVID-19.
Mobile UV Air System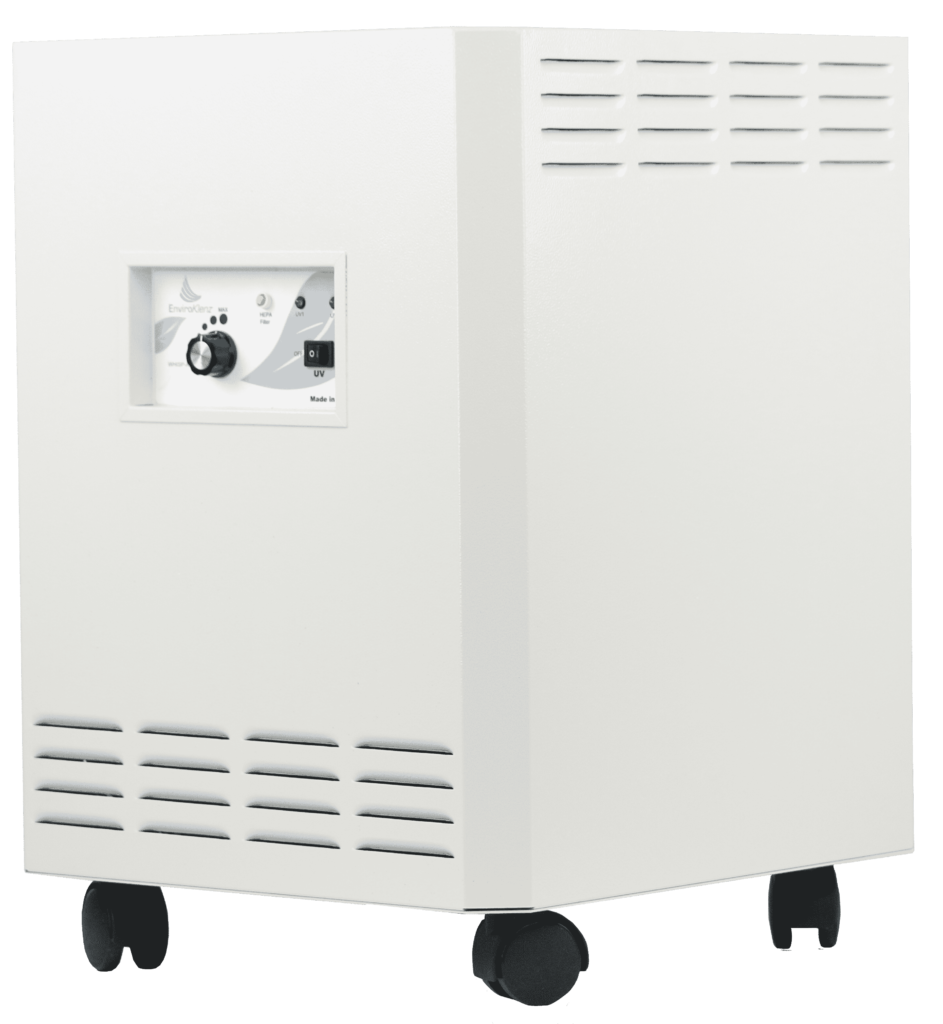 ✓ Patented earth mineral technology works to attack VOCs and break them down on a compound level
✓ No chemicals or masking agents
✓ Will not release any chemicals back into your environment
✓ UVC lamps are continuously shining on the collected organisms with high efficiency of kill and destruction
EnviroKlenz® Medical Disclaimer:
"Any information that is provided on this website is not for the use by any commercial or personal entity without expressed written consent of the blog author. The material and statements illustrated within this blog are not intended to diagnose, treat, cure, or prevent any diseases or medical conditions. Nor does the author in any way guarantee or validate the validity, totality, or efficacy of any claims and will therefore not be held responsible for the content of any claims. Always consult your medical physician for any specific medical advice or recommendations."