As a vacation rental host, you always want to offer your guests the most comfortable, cleanest stay possible when renting out your property. Wiping down surfaces, changing sheets, and vacuuming floors are all feasible, routine measures when turning over your home between guests, but cleaning the air? This may sound a bit harder to achieve.
Increasing the number of bookings you receive is always a main goal as a rental host, and a valid means of achieving this is through optimizing your property; why not be accessible to a broader range of guests, whether that means being pet-friendly or even smoker-friendly, while still maintaining the cleanliness standards of your space. Don't let the fear of potential odors left behind by guests limit who you offer up your property to.  
Find out more about a simple way to combat lingering odors in your rental space that also packs a powerful punch of benefits to your overall indoor air quality (IAQ).  
Common Vacation Rental Odors
Guests want to feel as comfortable in a vacation rental as they would in their own home, but these favorable conditions can come with side effects. Being accessible to guests that fall into different categories, such as pet owners and smokers, can benefit you as a host, as this puts your property at an advantage against listings that aren't as user-friendly, and in turn, creates more potential bookings for you. The downside to this wider acceptance of guests is the odors they may leave behind.
Think about the smells associated with cooking certain meals in the kitchen. Frying bacon, preparing seafood, and using fresh garlic in a recipe are just a few pungent examples of cooking odors that tend to linger in the kitchen long after the time they were cooked and eaten. Utilizing the kitchen space in a vacation rental is a great amenity for guests while enjoying their stay, though they hope to get rid of these odors just as much as you do as the host. Home remedies of masking cooking odors can include simmering spices and citrus on the stove top to create pleasant aromas throughout the home, or even making essential oil sprays to spritz in the air. These aren't always practical to achieve, and they can add extra toxins into the air depending on what ingredients are used.
Becoming a '420-friendly' vacation rental is a great way to provide lodging for the underserved niche market of marijuana smokers, as this can increase your potential bookings compared to the larger majority of rentals that don't allow smoking on their properties. The downside to allowing guests to smoke is the distinct smell of cannabis left behind. Hosts should consider the way that cannabis odors cling to blankets, cushions, and other household fabrics, as well as linger in the air for long periods of time, especially depending on the magnitude of smoking that occurs. Thorough washing of linens and a second set of these fabric items can be used in rotation between guests to reduce odor buildup, but further remedy is needed to eliminate the odors in the air. 
What better way is there to spend your vacation than bringing along your furry family member to enjoy the fun? Changing your rental to a pet-friendly status is great for driving traffic to your listing, as guests can bring their pets with them instead of worrying about kennel or pet-sitting arrangements. However, pet odors, fur, and dander pose issue for the cleanliness of your rental, potentially leaving a stale pet odor throughout the home, or even creating problems for allergy-prone guests in the future. It helps to have a simple rule book for guests to follow in terms of proper pet behaviors, like having animals stay off the furniture or creating designated spaces with separate blankets or bedding for them to lay on, though it is almost impossible to keep out every trace of odor or fur.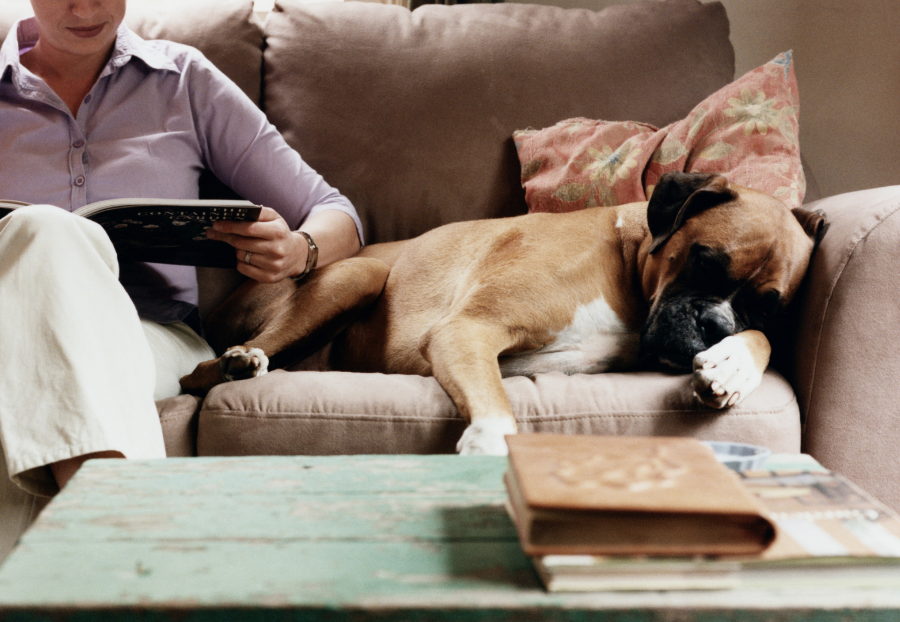 With these different categories of guests, let's say you choose to optimize your rental and accommodate for their specific needs. How should you properly address the consequential odors? And what about odors caused by hosts? Another consideration you should have is the pungent aftermath of turning over your property in between guest stays, where the strong smell of cleaning products may overwhelm anyone entering the room. You always want your guests to trust that they are lodging in a well-cleaned rental space, but the unpleasant stench of chemical cleaners could definitely be a turnoff.
Common ways of eliminating these pesky odors include the use of air fresheners and linen sprays, though they only provide temporary masking of unwanted smells, not to mention add more chemicals to the air. Rather than further pollution of your property's IAQ, learn how to properly capture and destroy odors in a non-toxic manner through the use of an air purifier.
How to Deodorize with Air Purification
Air purification has a large list of benefits to offer, including filtration of particulate matter and airborne pathogens from the air, and yes, even removal of odors. Depending on which system you choose to invest in, portable air purifiers are a simple, yet effective way to address any IAQ concerns, leaving your living space free of invisible risks roaming throughout the air.
The EnviroKlenz Air System Plus serves as a highly efficient means of achieving great air quality through its proven earth-mineral technology that removes and neutralizes VOCs and other toxic and noxious gasses. The simplicity of the Air System Plus makes it perfect for vacation rental owners to utilize; rental hosts can simply turn the machine on and let its industrial-grade technology work its magic. Its efficient air exchange rate is very helpful when cleaning between bookings to remove leftover odors and potential germs from the previous guests, covering a 1000 square foot area and providing more than double the air exchanges that an HVAC system can. Not to mention, the Air System Plus's combination of its Air Cartridge and HEPA filters easily capture particulate matter in the air, such as pet fur and dander, to promote fresher, cleaner air.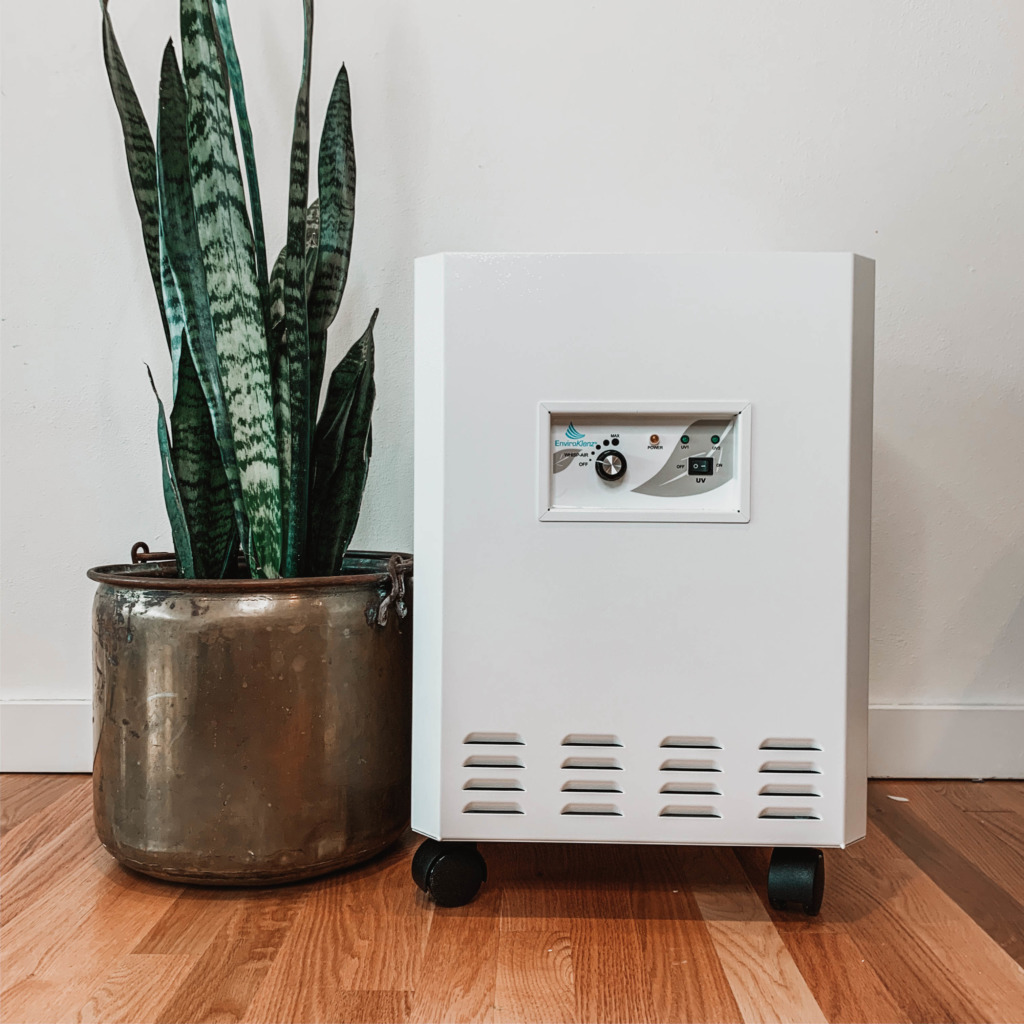 Choosing the Air System Plus for your rental space allows your property to become more accessible to guests and their various needs while still giving you the comfort of knowing that odors won't be a factor in your hosting process. There is even a certain appeal of the natural, non-toxic features that this unit has, as the Air System Plus never releases any harmful toxins back into the air during its use. This may catch the eye of sustainably minded guests who take particular notice to eco-friendly living conditions.
Further Benefits: Addressing Indoor Air Quality
An air purifier provides several more notable benefits aside from its odor elimination, as it works to reduce the risks of airborne germs, dust particulates, allergens, and air pollution within your rental. This becomes especially applicable to areas where outdoor conditions are of greater harm, such as locations prone to wildfires or higher levels of outdoor air pollution. The odors and harmful risks associated with these conditions can both be mitigated through the use of an air purifiers within a rental's living quarters.
The addition of an air purifier within vacation rentals can become a part of the cleaning routine that rental hosts follow when working to provide the best conditions for their guests' comfort and safety. Realizing how much of a positive impact air purification can have on the quality of air, addressing both concerns of airborne health risks and preferences to odorless living, rental hosts will wonder why they didn't take their IAQ into greater consideration sooner. As EnviroKlenz says, 'Clean Has No Odor' and neither should your vacation rental.
EnviroKlenz® Medical Disclaimer:
"Any information that is provided on this website is not for the use by any commercial or personal entity without expressed written consent of the blog author. The material and statements illustrated within this blog are not intended to diagnose, treat, cure, or prevent any diseases or medical conditions. Nor does the author in any way guarantee or validate the validity, totality, or efficacy of any claims and will therefore not be held responsible for the content of any claims. Always consult your medical physician for any specific medical advice or recommendations."