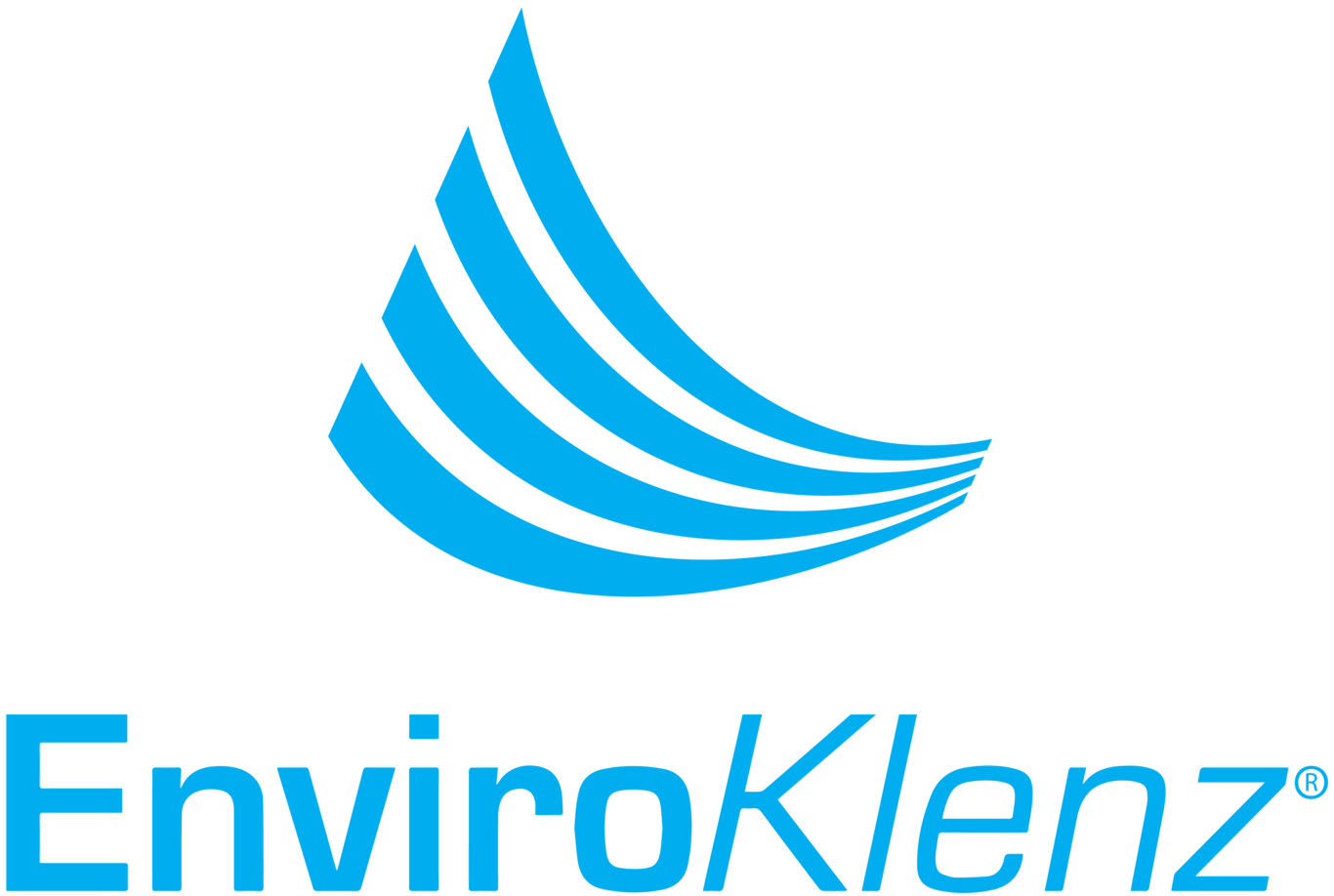 Mobile Air System Promotion
Mobile Air System Promotion
Standard System Package Deal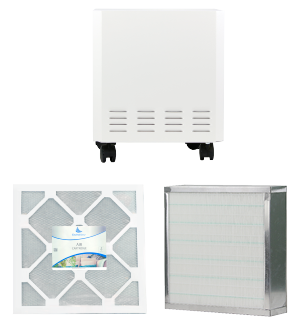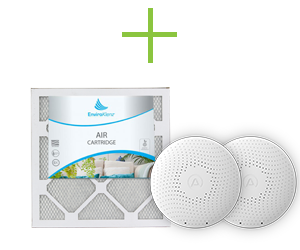 1 x EnviroKlenz Standard Mobile Air System
2 x EnviroKlenz Air Cartridge
 1 x HEPA Filter
2 x Airthings® Wave Mini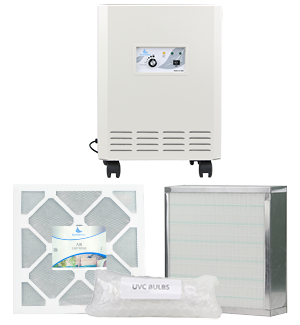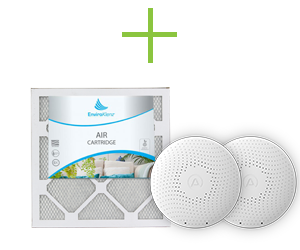 1 x EnviroKlenz UV Mobile Air System
2 x EnviroKlenz Air Cartridge
 1 x HEPA Filter
 1 x UVC Bulb Pack
2 x Airthings® Wave Mini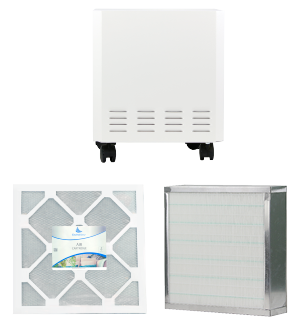 1 x EnviroKlenz Standard Mobile  Air System
 1 x EnviroKlenz Air Cartridge
 1 x HEPA Filter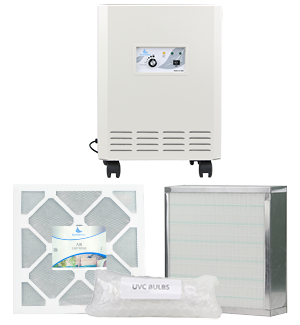 1 x EnviroKlenz UV Mobile Air System
 1 x EnviroKlenz Air Cartridge
 1 x HEPA Filter
 1 x UVC Bulb Pack 
Dimensions-
Standard Model:
19 inches x 15 inches x 15 inches
UV Model:
22 inches x 15 inches x 15 inches
Weight-
Standard Model:
38lbs
UV Model:
45lbs
Germicidal Destruction-
Standard Model:
None
UV Model:
UVC lamps are located before and continuously radiating on the collection side of the HEPA filter to kill the collected and passing organisms at a high efficiency.
HEPA Filtration-
99.99% > 0.3 μm  
CFM-
WhispAir: 85
Low: 150
Medium: 200
High: 250
Decibels- 
WhispAir: 54 DB
Low: 56 DB
Medium: 59 DB
High: 62 DB
Room Size-
Treats Up to 1000 Square Feet
"I have had my EnviroKlenz Air Purifier for a week now and so far the results have been amazing! I had our home remediated for mold and was told by our contractor this is all that he would recommend . The air feels much fresher and I don't fear what is in my air anymore."
"The smell of paint was gone by the next day and now I feel safe smelling the air in my house."
"I love this thing so much! I wish I could put one in every room. This is a Godsend!"
"The unit has turned out as advertised. It is quiet, efficient, and works magnificently. This unit has really made a difference in the air quality in spite of our challenges in moving into a brand new home having allergies and MCS."
"I have the filter in my home, office, and son's school. One of the biggest differences I notice is that we all sleep better when the filters are running."
"So far it is working well and the air in our bedroom smells so sweet and clean!"
"The EnviroKlenz Mobile should be the only choice for those with chemical sensitivities. The unit isn't the prettiest but it is by far the best unit I have ever owned ( I must own 14+ units). I was amazed at how fast it was at removing chemically reactive gases such as formaldehyde, ammonia, and those found in new carpet or flooring. "
"My obsession for fresh, clean smelling air has put me on a quest to find the quietest and most efficient air purifier and I have finally found it. I have tested all the other major "big brands" and they are just dust collectors. This machine really does what it advertises to do at removing the toxic gunk from your air and have it smell like you are breathing fresh country air."
"I bought this to combat the poisons that were being spewed into my home from our toxic neighbor's fireplace. It works very well, and very fast! Way better than the Big Blue Air I have, and the filter replacement is far more affordable and easier to maintain."
Frequently Asked Questions
What is the Difference Between the Standard Mobile Air System and the UV Mobile Air System?
Both models work very well to remove the VOCs and chemicals from your air as well as the particulates. The UV model, however, has the added benefit of UVC lights shining onto the collection side of the HEPA to kill any mold spores, bacteria, and other microorganisms that are caught be the HEPA filter
How Many Square Feet Can the Mobile Air System Cover?
About 1000 Square Feet.
The EnviroKlenz Mobile Air System treats 250 cubic feet per minute on the highest speed setting and ideally, you want to achieve 3-5 air exchanges per hour in the area you are using the system. In a typical home (assuming approximately 10 foot high ceiling), this equates out to be around ~1000 square feet or less.
I See that the Technology Utilizes Metal Oxides to Remove Odors & VOCs, are these Oxides Safe to Have in my Air?
The Earth Minerals we Use are Safe. Regardless, They Do Not Get Released Into the Air. 
The EnviroKlenz products do use metal oxides. Metal oxides are considered safe earth minerals and are used in many products, including things we eat. So if they were in the air, they would be safe. It should be pointed out, however, that the EnviroKlenz Mobile Air System does not release metal oxides or ANY chemicals to the air. The system uses the airflow to bring the chemical pollutants into contact with the patented EnviroKlenz materials INSIDE our cartridge, not out in your personal environment.
How Does the EnviroKlenz Mobile System Compare to Other Air Purifiers?
EnviroKlenz is the Strongest, Safest, and Longest Lasting Air Purification System on the Market.
Many air purifiers focus on particulate removal and neglect proper chemical neutralization.  The EnviroKlenz Mobile Air System combines particulate removal and chemical neutralization into 1 system.
What Tools Will I Need to Assemble the Unit?
None.
No tools are necessary to set up or maintain the system.
How Long Will the Filters Last?
6 Months and 2 Years.
The HEPA filter will last approximately  2 years. The EnviroKlenz Air Cartridge will last typically 5-6 months. Actual lifetime is dependent on environmental conditions and chemical pollution concentration present in the environment it is used in.
How Long Do I Need to Run the Unit Before I notice a Difference in the Air Quality?
It Depends on the Environment.
Often you can start to notice improvements within hours, but depending on the environmental conditions and contamination level it may be faster or longer.
Will the EnviroKlenz Mobile Air System Remove Both Odors and Chemicals?
Yes.
The EnviroKlenz Air Cartridge installs right into the Air System to remove VOCs, Chemical Odors, and Fragrances.
If I Don't Like the Mobile Air System, Am I Able to Return it?
Yes.
We offer a full 30-day money back guarantee on all EnviroKlenz purchases.
EnviroKlenz Brand Promise
At EnviroKlenz we are committed to providing the highest quality of Customer Support. As an EnviroKlenz Customer, all purchases include: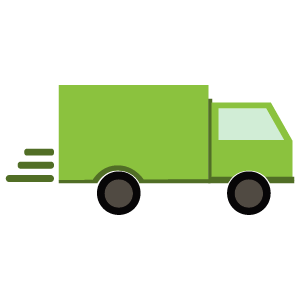 Fast Shipping
Most orders placed before 2:00 EST ship out the same business day. Customers typically receive their orders 2-3 business days after their order is shipped.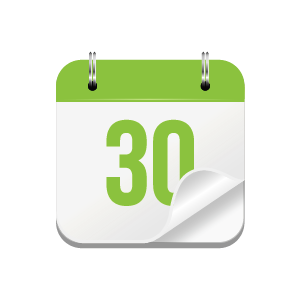 30-Day Money Back Guarantee
If the EnviroKlenz Mobile Air System does not perform as promised, you may request a refund within 30 days of product purchase.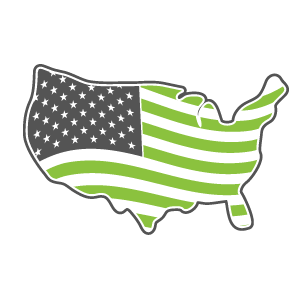 US- Based Customer Support
For any questions or concerns, you can always reach out to our in-house Customer service team at 239-330-9650 or send us an email at [email protected]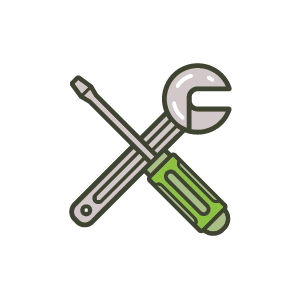 Products Handcrafted in the USA
Every EnviroKlenz Mobile Air System is made by hand in the United States from high quality, American-sourced materials.
The Cleanest Air
Your Home Has Ever Had.
EnviroKlenz Mobile Air System
(Standard Model)
Package Deal
EnviroKlenz Mobile Air System
(UV-C Model)
Package Deal