We talked to 10 dentists about what they have done in response to COVID-19 within their dental offices, how they plan to combat the effects the pandemic has had on business and how they treat their patients. The past year has brought tremendous changes in how dental professionals approach in-person services, as the airborne aspect of COVID-19 brings more attention to air quality than ever before. 
Learn more about how dentists across the country are recognizing this need for better indoor air quality within their dental offices and how they are addressing it effectively.  
The Pandemic's Unfavorable Impact on Air Quality in Dental Offices
Since the start of the pandemic, the dental community is just one of many professions that has taken a hit from COVID-19's long list of negative impacts. Indoor air quality in enclosed air spaces is of particular focus when considering the practices of a dental office, where the exchange of aerosols, droplets, and other particulate matter in the air is constant and in high supply. The safety of both dentists and patients is at greater risk when you add a deadly virus to the mix of concentrated air exchange from person to person.  
From combating the global effects of temporary shutdowns, to worrying about the safety of patients and staff when operating in the offices, dentists have come to realize just how vital efficacious air ventilation is. It is not so easy addressing an 'invisible threat' like a virus in comparison to typical cleaning procedures of tools, surfaces, and oneself.  
Take Dr. Dziurgot for example; as the owner of MC Dental Care in Shelby Township, MI, she is faced with having to deny treatment to patients with any potential health risks or viral exposure in order to maintain a safe office, one of many frustrating but necessary precautions dentists must take. The pandemic presents dentists with a newfound need for more extensive precautionary methods across all aspects of practice, as well as more awareness for proper indoor air quality, which may prove to be beneficial for the future of dentistry, post-pandemic.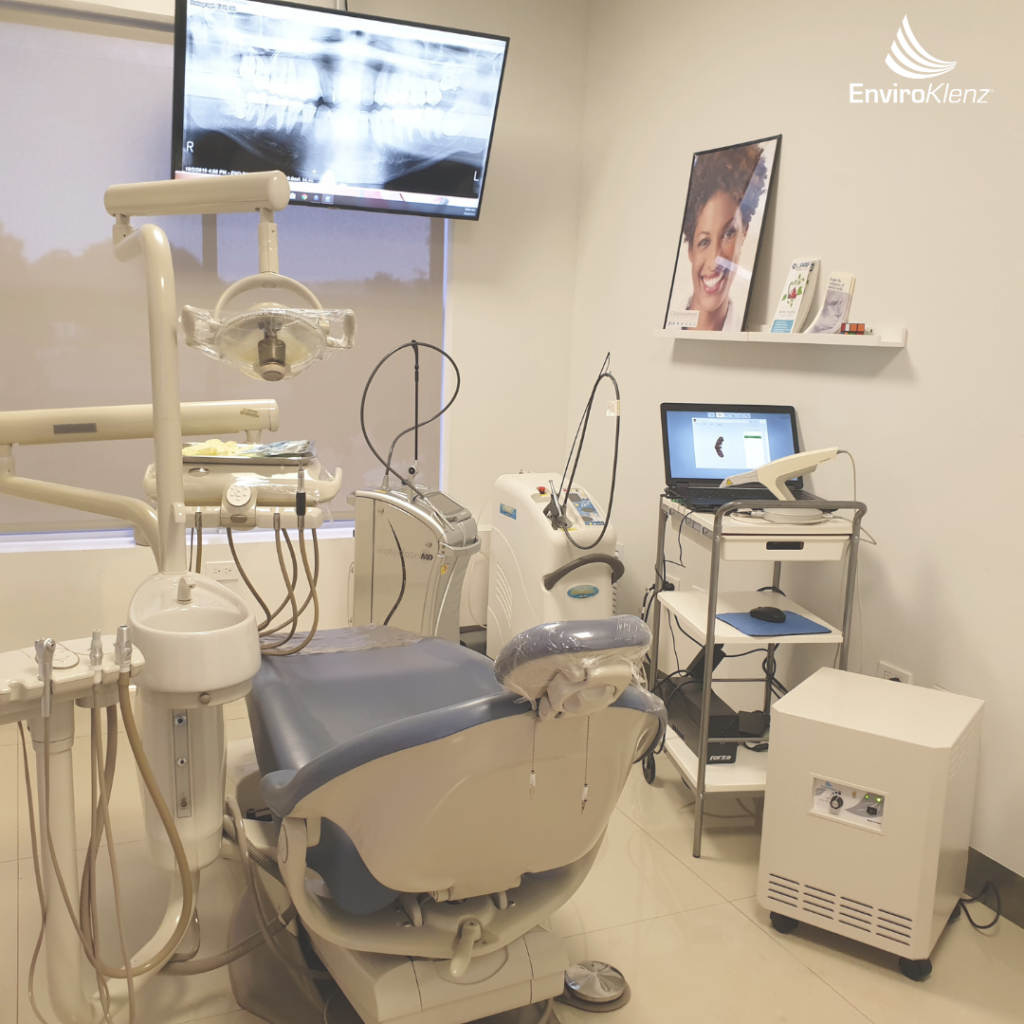 What's New with Dental Regulations?
The dentists we interviewed shared changes introduced to their offices to ensure better safety for both patients and staff, many of which were consistent across the board. A top concern of dentists is not only the health and safety of their patients and fellow workers, but also the social aspect and peace of mind brought with it. Patients and staff can trust their dental professionals in providing a safe experience amidst the threats of the pandemic.  
New safety measures that dentists have now incorporated into their daily operations include: 
Increased use of PPE
Dental professionals have increased the use of PPE during procedures, including masks, gloves, face shields, and proper attire. 
Increased cleaning methods
Frequently touched surfaces, high-traffic areas, and tools used by dentists on patients are cleaned more frequently with powerful sanitizers.  
Improved air filtration and air ventilation
Since the virus is mainly airborne transmitted, dental offices have invested in portable air purifiers, source capture devices, and powerful HVAC filters for higher air exchange rates and better air quality.
Pre-Screening
Staff and patients must answer a questionnaire regarding their health prior to entering the office.
Reduced traffic and capacity
Dental professionals avoid patients encountering other patients and steer clear from the use of waiting rooms.
Adjustments to office design
Chairs are socially distanced, sneezing shields were added where necessary, and magazines and pens were removed from waiting rooms. 
The changes have not come without challenges. Like all businesses trying to provide the best solutions to their clients and staff in such uncertain times, several of the dentists we spoke with expressed how everything about their COVID-19 solutions was completely new and intimidating to them at the start. Through extensive research and dedication to the safety of patients, this compilation of regulations does its very best to provide the utmost safety to everyone within the dental office, with improved air quality being ta key factor in keeping the transmission of the airborne pathogens out of the equation.  
Improved air quality has been achieved through the addition of air purification systems, like the EnviroKlenz Air System Plus within operatories and high-traffic areas throughout the office to ensure the circulation and turnover of clean air during and outside of operating hours. In our interview with Dr. Ruby from Ruby Dental in St. Louis Park, MN, we learned that she sees the positioning of an Air System Plus in her dental office as "an additional selling point as to why staff members should come (back to work)" and they feel safe doing so because it signals to them that she is taking any concerns surrounding the pandemic and its impact on indoor air quality very seriously.   
How Air Filtration Systems 

Have 

Changed in Dental Offices
Dentists recognize the need for portable air filtration systems as their office air quality comes into question, and there are specific qualities to look for when deciding between the various filtration options currently on the market. Several of the dentists expressed how their personal research brought their attention to the EnviroKlenz patented technology's efficiency in removing 99.9% of virus and bacteria from the air. The UV-C lights for sanitization of the system's interior shining directly onto the medical-grade HEPA filter compliment the system's capability to capture and destroy germicidal pathogens, odors, dust, and other harmful particulates in the air.  

Table 1: EnviroKlenz® Air Cartridge Microbial Reduction Rate Test
Other benefits interviewees mentioned were: 
Third-party tests proving the EnviroKlenz technology's ability to removing 99.9% of virus and bacteria from the air (shown above); 
Easy to install and maintain; 
The price of the filters is fairly cheap compared to competitors in the same category; 
The footprint of the EnviroKlenz Air System Plus is perfect for a dental office; 
The EnviroKlenz Indoor Air Quality Certificate provides peace of mind for patients and staff. 
The Importance of Air Exchanges

 
Another essential feature provided by the Air System Plus that several dentists appreciated is the rapid air exchange rate through use of the system, a quality both beneficial to the health of patients and dentists in operatories or waiting rooms, as well as efficient for the number of patients a dentist can attend to each day. The Air System Plus has an air exchange rate of 18 times per hour within a 1,000 cubic foot space, the size of a typical dental operatory, meaning the air gets turned over frequently and quickly for optimal efficiency.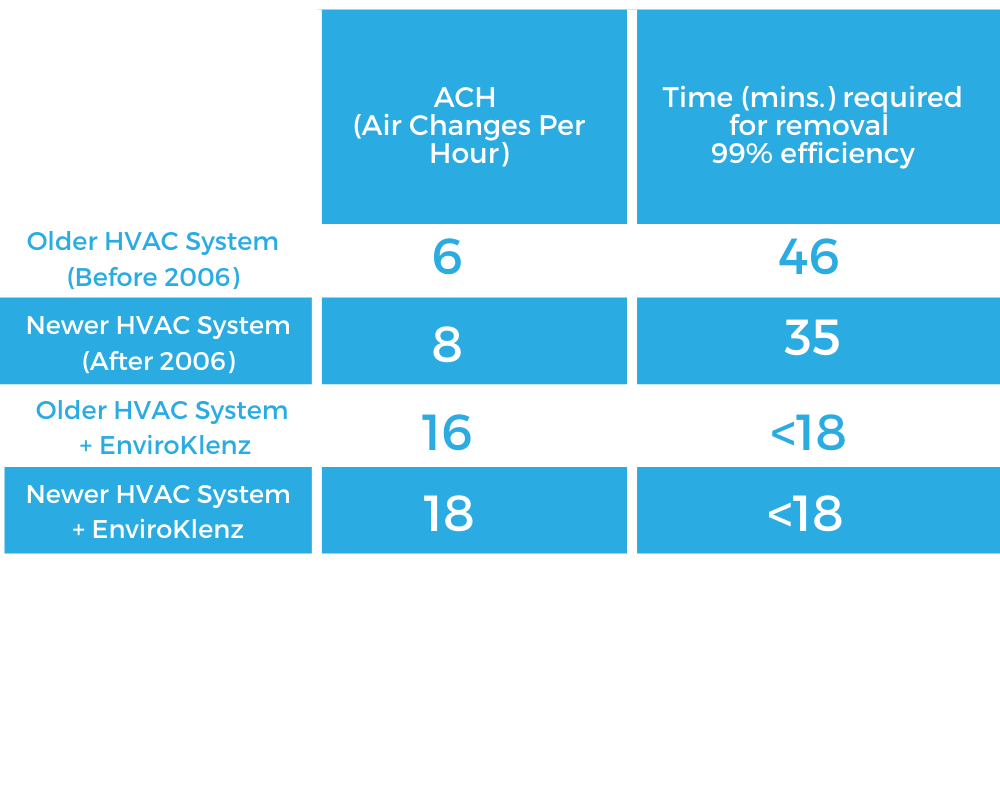 Table 2: Air exchange in a dental office
Dr. Krause, a dentist and managing partner of Krause Comprehensive Dental Care in Montville, New Jersey, recognizes that the use of their Air System Plus can "reduce anything that is floating around in the air…giving better-quality air" as a result. The air exchange rate stood out as a key attribute when deciding on what air filtration system to invest in, given his knowledge of how high the concentrations of aerosols and droplets can be within a dental operatory. 
The use of portable air purification systems in dental offices has the value of providing peace of mind to both patients and staff, as the thought of going to any type of appointment during this time can seem stressful and unsafe. Aside from the reputable testing behind air purifiers like that of EnviroKlenz, there are added bonuses like affordability and odor reduction. The bottom line is that people thoroughly appreciate feeling as safe as possible when exposing themselves to environments with high potential for COVID-19-related risks.
"I can practice without the fear that I will be making someone sick…my staff or my patients." 
Moving Forward: A Change in Perspective for 

the

 Dental Community
Dentists have had to personally bear responsibility for educating themselves, finding ways to keep their practices open and their patients and staff safe during this pandemic's unprecedented challenges. With this, the focus placed on indoor air quality throughout this journey has established a more mindful approach to this aspect of the dental environment moving forward.  
Many dentists from our interviews asked themselves, 'Why haven't I been using an air filtration system in my offices all along?' when realizing the long-term benefits that systems like the EnviroKlenz Air System Plus can provide, with or without a pandemic at hand. Dr. Levine, an orthodontist in Lexington, MA who is also on staff at Harvard University's Orthodontic Department in Massachusetts, stated that "the risk of what we do will continue (after the pandemic) …and we've never really had the tools that we've needed," including awareness, until now; he sees this as a beneficial outcome of investing in an air purification system from EnviroKlenz.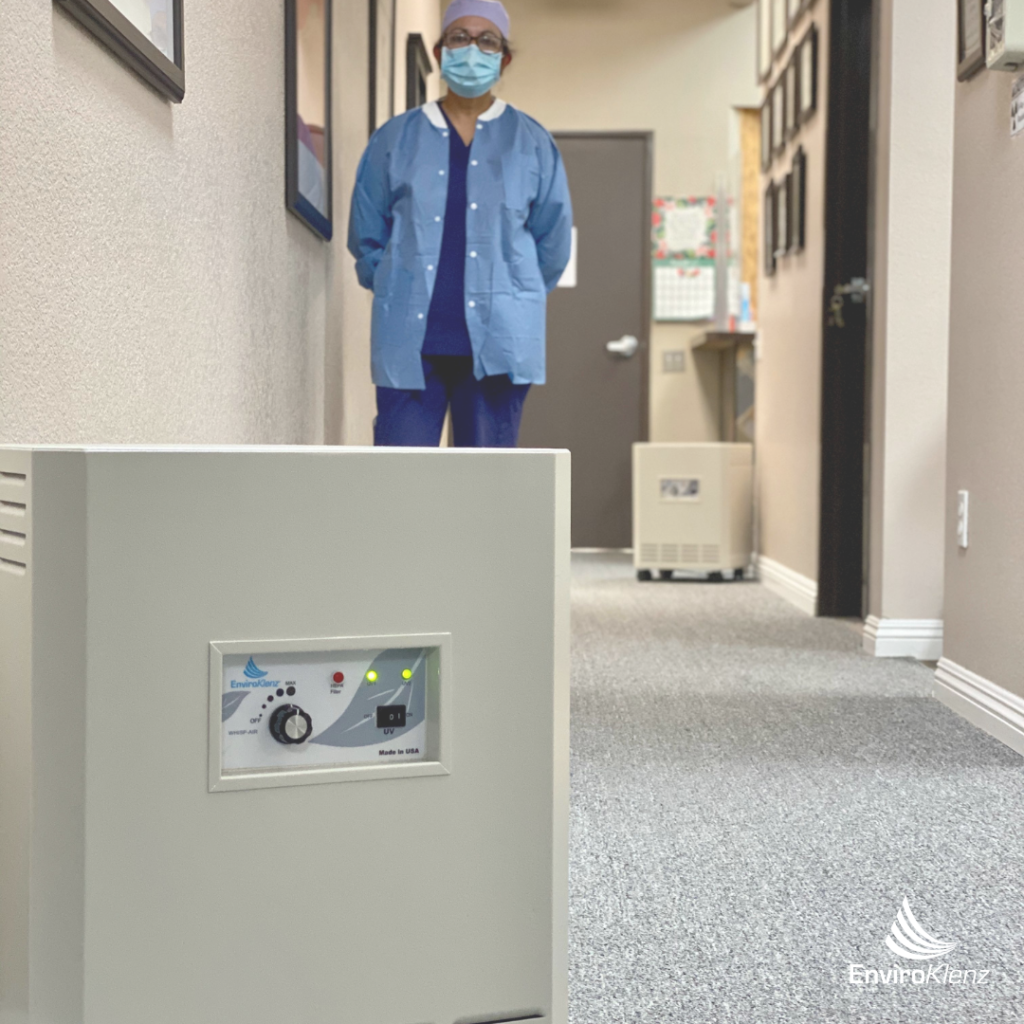 With that, a positive takeaway from these trying times is that providing the highest level of care, in terms of safety, health, and comfort of the patient, should always be the front-running goal. The use of air filtration systems will certainly continue long past the era of COVID-19, as indoor air quality is a standard that will never disappear.  
"We are trying to do everything that we can, and if we didn't have an air filter running…I'd feel like we were missing something that we should be doing.  It does make us feel more confident and more comfortable that we are doing everything we can to work in a safe place."  
"I think all of the changes we've made have probably been for the better, and going forward I think we're going to keep a lot of the changes we've made as a permanent way to practice." 
Special Regards to EnviroKlenz:
"You can do research on the internet and try to educate yourself as far as HEPA filters, which is the best HEPA filter, UV lights, things like that – filtration rate, how often the air turns over in the room, and then…we had to factor in the cost.  So, putting everything together, it seemed like your product was doing what we wanted it to do at a reasonable cost."
EnviroKlenz® Medical Disclaimer:
"Any information that is provided on this website is not for the use by any commercial or personal entity without expressed written consent of the blog author. The material and statements illustrated within this blog are not intended to diagnose, treat, cure, or prevent any diseases or medical conditions. Nor does the author in any way guarantee or validate the validity, totality, or efficacy of any claims and will therefore not be held responsible for the content of any claims. Always consult your medical physician for any specific medical advice or recommendations."